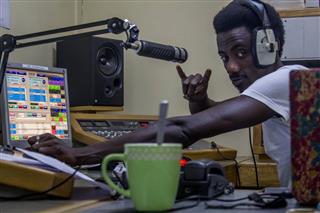 Don Jarreau - Our man from Amsterdam
Don Jarreau presents the Breakfast Show, Mondays to Fridays, on Capital Radio. Don was born in Ede near Amsterdam and spent the early part of his life assimilating the international culture of the Netherlands, learning Dutch and English.
As the time came to begin his secondary education so his family brought Don back to Sierra Leone. After High School he attended Milton Margai College of Education and Technology and Fourah Bay College.
It was in Holland that Don Jarreau began to develop his appreciation of the visual arts, photography in particular. Also at school he picked up his interest in playing Basket Ball and playing Football. By the time he had finished college he had taken to the Computer and become an expert in Visual Effects and Graphic Designing. These skills are not far removed from broadcasting and he joined Concept Media as a camera operator and video editor. He became part of the Television production team for SLBC's once-weekly 'Wetin Now' (What Now?) and, as a Producer, he helped many young Presenters of the Show to improve their styles. It was here that Don Jarreau became aware of his own, deep, rich voice. He heard continuous comments about his voice which encouraged him to think about radio Presentation. As Don remarked "so I had to go for it and here I am!" After a spell of presenting 'Drive Time' in the afternoons, Don took on the awesome and demanding Breakfast Show.
Don Jarreau has an interest in developing children ('because they are the future') and a love of dogs because they are 'man's best friend'. He has several pet dogs including the latest one 'Toast' which is a girl.